After waking up at 8am in time for breakfast at 8:30am, there was an air of anticipation around the camp ahead of the first game. With the match against ADO '20 not until the evening, the players had a relaxing morning before stretching their legs with a walk around Goirle.
With everybody making sure that they had everything they needed, the squad departed the small town in the south of the country at 2pm, for the 300 kilometre round trip.
Once on the bus, the players settled down for the journey. Some listened to music, some slept whilst others gathered at the back to play games. Coach Wim Rijsbergen was situated at the front of the bus reading his newspaper.
The journey was relaxing and as we passed Amsterdam, players were given a glimpse of the Amsterdam Arena, home of Dutch champions Ajax. The final part of the journey was tricky for the bus driver, with narrow streets and roads to manoeuvre through but we arrived at the ground with plenty of time to spare.
We were greeted at Sportpark de Vlotter at around 4pm and after checking out the changing rooms, the players were invited into the clubhouse for some pre-match food in which defender Michael Boso led the prayer.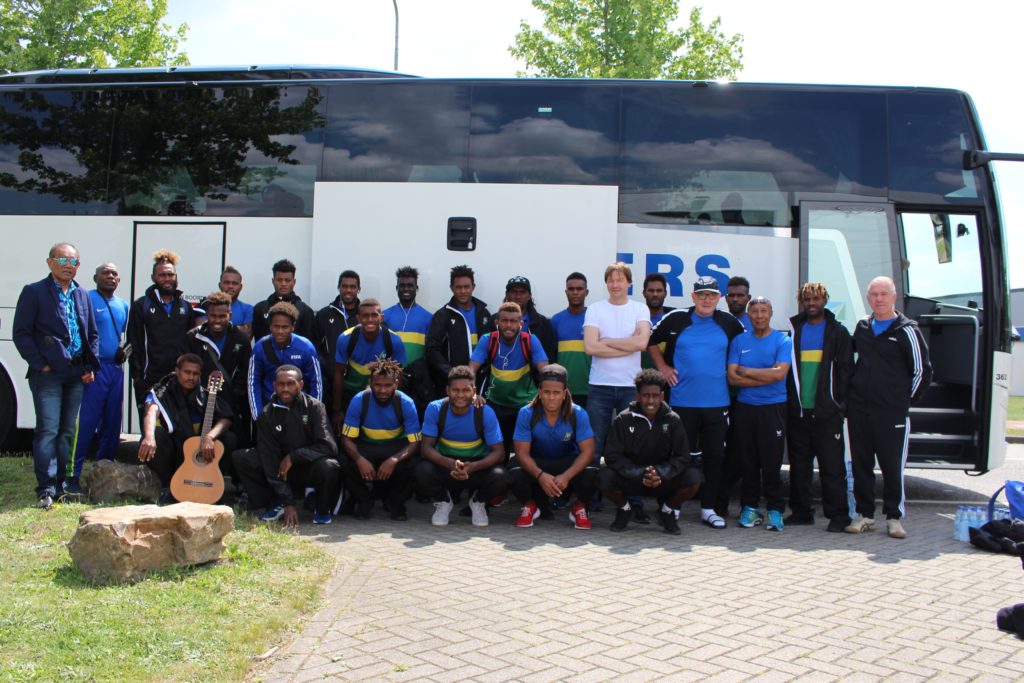 After the food it was time for Raynick Laete, Patrick Taroga and John Aeta to get their kit on as they took part in a novelty match against over 100 junior players from ADO '20. It was a great chance for the youngsters to share a pitch with the international footballers in what was an entertaining 15 minutes of fun for the children, parents and spectators. The kids ended up winning the game 3-0 despite the Solomon boys having a couple of chances of their own.
With the pre-game entertainment complete, it was time for the match as the boys lined up and sang the national anthem. An early goal was all that separated the two sides as the Bonitos lost 1-0. Read the full report here.
Following the match, the players gathered in the bar to present a plaque to the chairman, as well as receiving a selection of gifts from the club, including scarves and water bottles.
Match highlights will be online shortly available on our YouTube channel and Facebook page.